Tunco Manufacturing provides tools and solutions for a variety of industries. Explore some of our top industries below.
Foundries
Tunco Manufacturing is a proud supplier of files and tools to clients in the foundry industry.
We have decades of experience developing effective files and tools and meeting foundries' needs during the degating and finishing process of casting.
Tire Manufacturing
Tunco is the largest supplier of uniformity correction grinding wheels to OEM tire manufacturers. When it comes to tires, maintaining an even tread across the whole tire is important, but rubber grinding tools can wear out easily. Across the tire manufacturing industry, we are a trusted provider of replacement uniformity correction wheels and spindles.
Our customers include:
Akron Standard Machine
Akron Special Machinery
Firwood
Spadone
Conveyor Systems & Gripping Components
Many industries rely on conveyor systems to move materials for processing. Over time, these conveyor belts can wear down and conveyor rollers can lose friction, rendering a conveyer system less effective because speed and stops are more difficult to control. Keeping the grip on your conveyor rollers in good condition is of vital importance, especially for industries that work in harsh weather conditions or humid environments where losing friction is a greater hazard. Tunco can also apply abrasive coatings to existing clamps and grippers to improve grip and improve wear life on components along with working with you to develop new parts to best serve your needs.
Tunco Manufacturing's abrasive coatings (including tungsten carbide and our in-house developed diamond-sharp are the perfect, long-term solution to ensure that your belts stay firmly in place. Our abrasive coatings are more durable than rubber and improve friction, resulting in longer belt life, fewer belt-tracking issues, and reduced energy costs for your conveyor system. Abrasive coatings may be applied in the following ways:
Friction bands to be mounted on rollers to prevent slippage
Diverter rollers for separating products or materials
Coated rollers for feeding products or materials
Apply coatings to clamps and gripping parts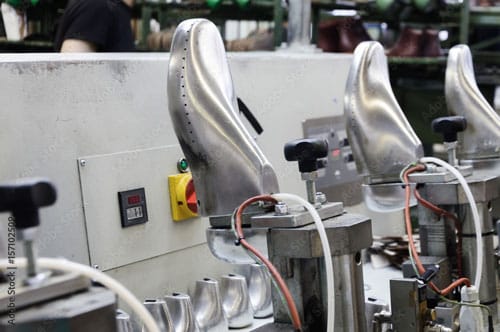 Shoe Manufacturing
Tunco manufactures and custom-designs tungsten carbide tools to trim, cut, and grind rubber in the shoe manufacturing industry. We offer tools to grind and shape rubber soles for boots or shoes.
Get Started
We continue to use state-of-the-art technology and innovations to provide you with the best abrasive-coating tools in the industry. If you'd like to order one of our standard products or need a custom tool, contact us today!